Clothesline Display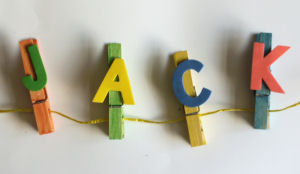 No more room on the refrigerator for all the delightful artwork  that comes home from school. This easy to make Clothesline Display shows the project at its best and identifies the artist too.
Trivia: Though clotheslines are banned in Missouri, clothes may be draped over a fence.
Supplies
Wooden Clothespins
Paint
Paintbrush
Letters
Glue
Clothes line or heavy string
Instructions
Paint wooden clothes pins in bright colors.
Glue on a pre-cut foam letter (or cut your own). Alternatively print out letters from an alphabet, cut out, laminate and glue on.
Contributor

ThriftyFun
Our goal at ThriftyFun.com is to provide valuable information to help people save money, save time and solve problems. ThriftyFun and its predecessors have been online since 1997. ThriftyFun has grown from modest beginnings to become a vibrant online community. Today, ThriftyFun.com is an interactive Web site where you can post questions and contribute answers to others who are trying to have fun while saving money.