Paper Plate Clock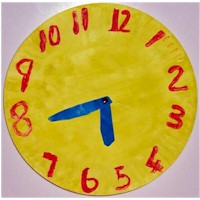 This Paper Plate Clock will be a good way to remind the kids that it is time to set the clocks ahead. This fun craft is also a helpful way to answer the age old question of "Is it time yet?" by showing children how time works with their own countdown clock.
Supplies
Round paper plate.
Felt pens
Coloured cardboard
Paint for the clock face or alternatively a felt tip pen
Split pin
Scissors
Instructions
Paint the paper plate and leave it to dry (or colour it with afelt tip pen).
Cut two pieces of coloured cardboard for the hands, making one smaller than the other (for the hour and minute hands).
Using a coloured felt pen which blends in well with the clock face colouring, write in the numbers. It may assist you when numbering the clock, to separate it into four quarters with a pencil which can then be removed with an eraser. However, you need to exercise caution to ensure that this does not remove any paint.
Using the split pin, make a small hole in the centre of the plate (clock face). Be careful not to push it in too hard to avoid splitting the plate or bending the pin. Make a small hole through each of the hands and insert the pin through the hands and through the hole in the centre of the plate. Once the pin has been inserted, bend the prongs facing outwards so that it is fastened (you can also use a piece of masking tape on the back to secure it well). This enables the hands to move freely.
You're done and you have a beautiful clock of your own creation and your children are now ready to learn how to tell the time with their new clock.
Contributor

Child Learning Support
Helen Thompson is a nursery nurse behind childlearningsupport.com. Her goal is to provide valuable information and activities for parents, teachers and carers, who often lack the time in the modern busy world to put these together for themselves.