Paper Fish Mobile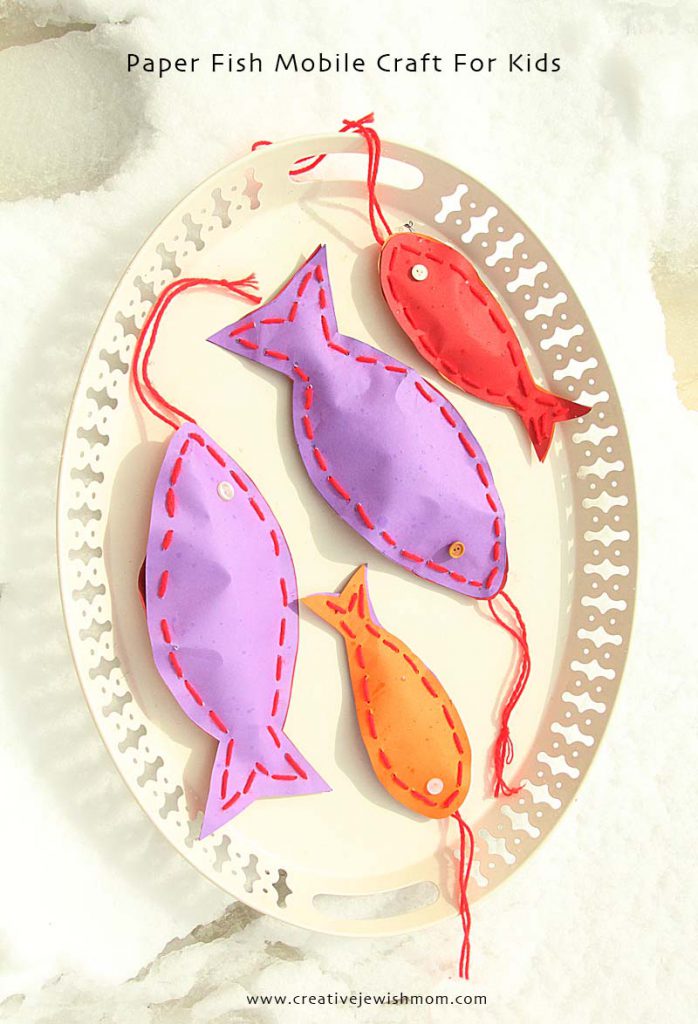 This Paper Fish Mobile is a craft that can be used for the Jewish Holy Days as well as a Christian craft. It is a good craft to open a discussion about diversity and understanding.
Supplies
Colored stock paper, ( how about stamping or printing a pattern on it first?)
Yarn
Yarn needle (dull for little kids)
Buttons
High tack glue
Wire hangar
Instructions
Make a template of at least two sizes of fish for your mobile. Cut out that template and trace around it to make pairs of two identically sized fish. I used different colored paper on each side. Using yarn and a yarn needle carefully sew even stitches around the fish, stuffing with little pieces of scrunched or rolled paper when you are about 3/4 of the way finished. Leave a long tail at the beginning, and a long tail at the end, and tie these two ends together to hang. Affix a button eye with high tack glue.
Note: Sewing through paper may be difficult for some children, and especially for younger children, so you may want to pre-pierce the holes for them, much easier, but at least they'll get the hang of sewing? Think maybe the needle is just too dangerous all together? Staple your little fish together, not quite as aesthetically pleasing, but could be fun too.
Contributor

CreativeJewishMom.com
Visit me at CreativeJewishMom.com. on the exciting journey of giving greater meaning to the everyday through creativity. This blog is my way of sharing with you the joys of crafting, decorating, cooking, and gardening. I love simple ideas, recycling and quick transformations.