Paper Mache Sombrero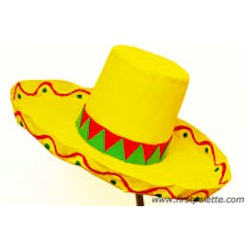 Get into the spirit of Cinco De Mayo by making your own Sombrero.
Supplies
Newspaper or paper for recycling
Papier pache paste
Papier mache mold (flower pot or small bucket)
Acrylic paint or poster paint
Paint brush
Aluminum foil or plastic wrap
Petroleum jelly
Instructions
1. Find a mold
Find a suitable mold for your papier mache hat.
 
Find a plastic flower pot, small bucket, or similar-shaped container that could fit on your head.
2.You will need to do the following to make it possible to remove the papier mache from its mold:
•Grease the entire exterior of your mold with petroleum jelly.
•Wrap the mold with plastic wrap or aluminum foil. Allow for an extra length of plastic or foil at the base or mouth of your mold.
 
3. Papier Mache (Hat\'s Top)
Here\'s a basic papier mache tutorial that you can follow. Make about 3 layers of papier mache around your mold.
For a pot or bucket mold, papier mache over the entire area of the mold. Take note to leave an extra length of plastic wrap or aluminum foil at the base of your papier mache. 
4. Remove the Papier Mache from the Mold
Once dry, remove your papier from its pot or bucket mold by holding it by the excess length of plastic wrap or aluminum foil and carefully pulling it out from the mold. Once you have pulled out the entire papier mache, remove the foil or plastic wrap inside your papier mache.
5. Trim the Papier Mache
Trim the edges of your papier mache to the desired height for your hat. You may draw a line around your papier mache to make cutting a lot easier. 
6. Papier Mache (Hat\'s Brim)
Cover your work area with plastic wrap or with a mat. Mark the desired size and shape of the brim on your plastic wrap. Set your papier mache hat at the center and begin to papier mache around it. First lay down several paper strips around the hat to fix it in place. Slowly build a brim with 2 to 3 layers of papier mache. 
7. Molding the Brim
 Make a brim with the entire edge curled up:

While the papier mache is still wet, make small slits (or tears) at approximately 4-inch intervals around the edge of the brim.

Overlap the two sides of each slit and press to glue them together.

Repeat for all slits to come up with an upturned brim. This would be a perfect way to make a sombrero!
 
Don\'t forget to line your mold with plastic wrap.
8. Painting Your Hat
When your papier mache hat has completely dried, paint it with your desired color(s) of acrylic or poster paint. Don\'t forget to paint the bottom of the brim as well.
When using light colors, you may need to prime or paint your hat white before painting with the final color. This hides any print on your papier mache.
This craft is reprinted courtesy of FirstPalette.com where you can find illustrated instructions for this sombrero and other paper mache hats.
Contributor

FirstPalette.com
A free resource for fun and educational kids' crafts, the site features a step-by-step guide for each craft project and includes printable templates, art recipes, and environment-friendly tips for crafting.