Make Your Own Gift Boxes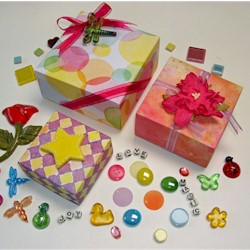 Even the smallest gift will create excitement when they are given in these beautiful boxes that you can make yourself.
Supplies
2 sheets of scrapbook paper for each box –
  12" x 12″ sheet of paper makes a box 2-1/8″ x 4-1/4″ x 4-1/4″
  10″ x 10″ sheet of paper makes a box  1-3/4″ x 3-1/2″ x 3-1/2″
  8″ x 8″ sheet of paper makes a box 1-1/2″ x 2-3/4″ x 2-3/4″
Aleene's® Original Tacky Glue Sticks
Aleene's® Super Thick Tacky Glue™
Embellishments – ribbons
Instructions
Click on Printables for the diagram that accompanies these instructions. 
For making a box from 12″ x 12″ paper, center and draw a 4-1/4″ square on wrong side of  paper (diagram 1).
Referring to this diagram, label corners A, B, C and D and center square E as shown.
Fold each corner in to meet at center of E (diagram 2).
Fold top and bottom edges in to meet at center (diagram 3). Fold side edges in to meet at center. Unfold paper.
Referring to diagram 1, cut along broken lines only. Do not cut into center square E.
Label flaps f, g, h and i as shown.
Refold corners A and C to center. fold each edge up, forming 2 sides of box and overlapping flaps f and g (diagram 4). 

Use a swipe of Aleene's Glue Stick to hold flaps together.

Fold in flaps h and i and use a swipe of glue to secure (diagram 5). 

Refold corners B and D to center to complete box top (diagram 6). Use a smudge of glue to hold.

For box bottom, trim 1/8″ from each edge of paper square and repeat steps.

Decorate box as desired using Aleene's Super Thick Tacky Glue for your heavier embellishments. Enjoy!
This project is reprinted courtesy of Heidi Borchers for inspiredathome.com.
Patterns, Templates and Printables
Click on a pattern to open it in a new window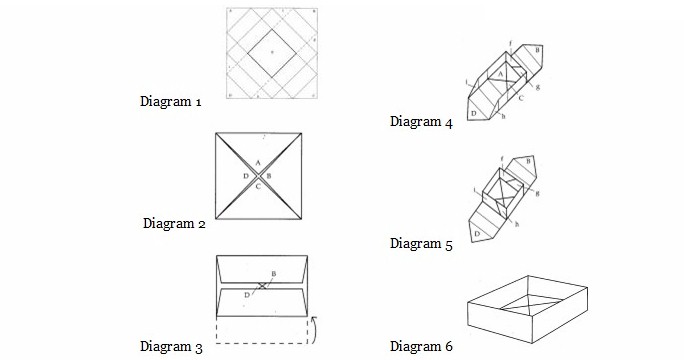 Contributor

Heidi Borchers for inspiredathome.com
Heidi Borchers hails from the first family of crafting. As daughter of Aleene Jackson, inventor of Aleene's Tacky Glue, Heidi's creative design projects have delighted worldwide crafters for over 30 years. Heidi's specialty is eco-crafting and she is the author of hundreds of craft books. She is co-host of Inspired at Home Radio, a live weekly talk-radio show featuring ideas for living a creative life. www.inspiredathome.com