Paper Heart Wreath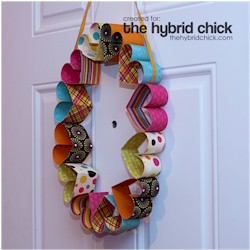 This Valentine Paper Heart Wreath is a classy way to decorate for the Holiday. Kids will enjoy making this beautiful wreath to decorate their home with love.
Supplies
Kit I used is Confectionerie Paper Pack by Quirky Twerp
Epson Premium Matte Photo Paper
Mini Glue Dots
Fiskars Paper Trimmer
Coordinating ribbon
Instructions
First, I printed out the papers; borderless and on both sides of the photo paper. Then you'll need to cut them into 2 inch by 11 inch strips and fold them in half. I used 12 strips which makes it an oval shape. If you're looking for a rounder shape then I would do 8 strips instead of 12.
Using the mini glue dots, I put 3 dots on the edge of one of the strips and them joined the other end together to form a heart shape. I used glue dots but you can really use any kind of strong adhesive, the glue dots were just what I had on hand.
Continue to make these hearts until you've made your desired number. Next you will want to attach the hearts together. I used the mini glue dots only on the edges of the heart. I wanted to leave a little space between the adhesive and you'll see why in a minute. Attach them all together to form your circle or oval.
Once you've completed your circle or oval of hearts, you'll want to thread your ribbon in between two hearts and tie a knot. I left four hearts between where I thread the other end of the ribbon.
When you have the ribbon the your desired length, tie a knot there too. For the circle with eight hearts, I'd probably have three hearts instead of four in between the ends of the ribbon. This is why I used glue dots, to leave space between the hearts for the ribbon to thread through. If you don't have glue dots and you're using another kind of adhesive you just have to plan the ribbon placement ahead of time and insert the ribbon while gluing the hearts together.
Lastly, trim your ribbon ends and hang your wreath.
Contributor

The Hybrid Chick
We are a team of hybrid artists from The Digichick Boutique, here to share with you our love of papercrafting. On our blog, you will find informative articles on cool little projects we've made combining digital scrapbooking supplies with paper, glue and scissors. We hope you find these hybrid creations to be as fun and addicting as we have and that you try them out for yourself!