Cardboard Tube Heart Garland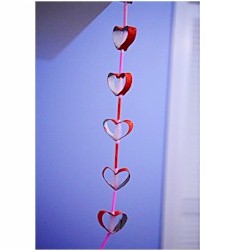 This is an easy project for one kid at home or for a whole class of kids to create a Cardboard Tube Heart Garland for decorating the classroom. If you don't have a supply of cardboard tubes to create this Heart Garland, have the kids bring them from home or have friends and neighbors save them for you. Recycled cardboard tubes make a great craft material.
Supplies
Paper towel roll or 2 to 3 toilet paper rolls
Straws
Hole punch
Scissors
Paint
String or ribbon
Instructions
Cut your cardboard tubes into 1/2 inch pieces and form into heart shapes. See picture below for reference.
Paint your cardboard tubes and allow to dry.
Cut your straw pieces into 1 inch pieces.
String your hearts together and find a nice place to hang them.
Contributor

TPcraft.com
TPcraft.com is the perfect place to find fun and educational activities for kids of all ages.  We utilize toilet paper rolls, paper towel rolls and other cardboard tubes commonly found around the home to create something new and exciting!