Paper Flower Wreath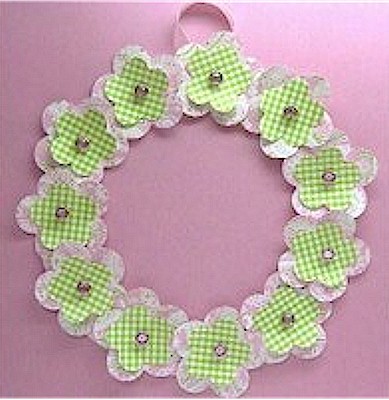 Supplies
Card stock
Decorative papers
Brads
Ribbon
Scissors
Hole puncher
Heat gun
Note: Heat guns should be used by a supervising adult.
Instructions
Click on printables and cut out circle template to cut a ring from cardstock.
Trace big and small flowers onto decorative papers. Cut out. Punch a hole on center, and insert brad. Curl up the edges of each layer with your fingers.
Adhere flowers to the cardstock ring.
Cut a length of ribbon and adhere to the back of the ring.
Contributor

ThriftyFun
Our goal at ThriftyFun.com is to provide valuable information to help people save money, save time and solve problems. ThriftyFun and its predecessors have been online since 1997. ThriftyFun has grown from modest beginnings to become a vibrant online community. Today, ThriftyFun.com is an interactive Web site where you can post questions and contribute answers to others who are trying to have fun while saving money.
Tags paper crafts
Newsletter
Subscribe to our free newsletter to get creative crafts mailed to your inbox.