Paper Clip Flowers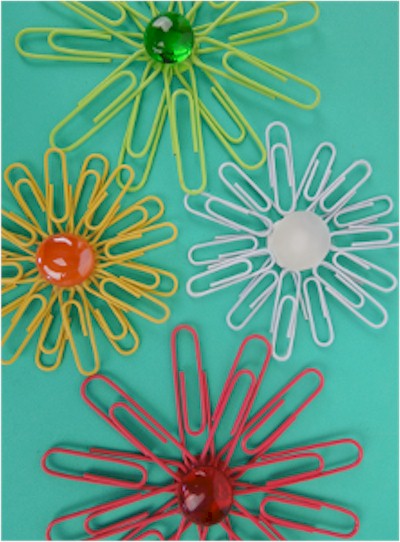 These quirky Paper Clip Flowers make an attractive decoration for cards or packages and can even be framed to make a decorative accent picture. This is also an inexpensive and time appropriate art class project. You can also turn your creations into magnets.
Supplies
Aleene's Original Tacky Glue
Paper clips
Cardboard (cereal box)
Scissors
Non-stick surface
Flat back marbles or gems
Optional – ribbon or clear fishing line for hanging or magnets
Instructions
Cut cardboard into circle approximately the size of a quarter.
Place circle onto non-stick surface. Squeeze out puddle of Aleene's Tacky Glue. Dip end of paper clip into glue and glue end of clip onto circle. Repeat to glue paper clips all around circle.
Glue second layer of clips offset from first layer.
Glue marble in center. Let dry completely.
If hanging, attach ribbon for hanger. If creating a flower stem, glue skewer to back of flower. If creating a magnet, glue to back of flower. Let glue dry completely.
Contributor

Heidi Borchers for inspiredathome.com
Heidi Borchers hails from the first family of crafting. As daughter of Aleene Jackson, inventor of Aleene's Tacky Glue, Heidi's creative design projects have delighted worldwide crafters for over 30 years. Heidi's specialty is eco-crafting and she is the author of hundreds of craft books. She is co-host of Inspired at Home Radio, a live weekly talk-radio show featuring ideas for living a creative life. www.inspiredathome.com