Fun Bumble Bee Key Chain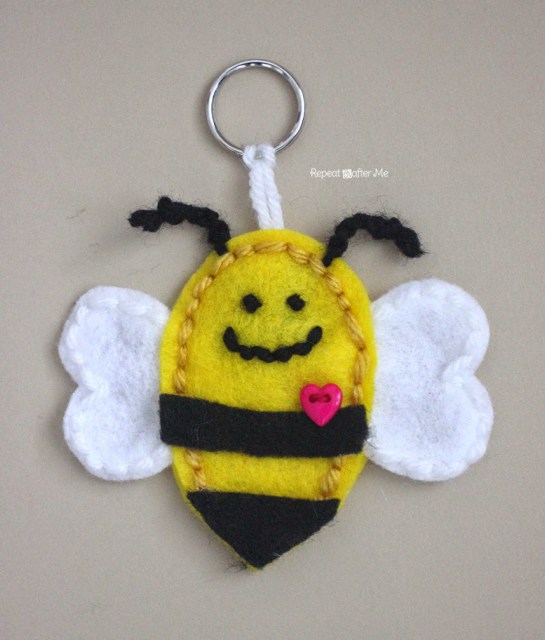 This Fun Bumble Bee Key Chain is a  good beginning sewing project or it can made as a non-sew project if you prefer for younger children. It makes a great keepsake gift for grandma or a favorite aunt.
Supplies
Yellow, Black, and White Felt
Yellow, Balck, and White Yarn scraps
Key ring
Small heart button
Hot glue gun
Needle
Note: You can choose to hot glue everything together and skip sewing together edges with yarn. Up to you!
Instructions
Print out template and cut two body pieces, two heart wings, and the black stripes.
Sew face and heart button on one of the body pieces. Attach yarn to keyring and sew yarn edging around wings with needle (optional)
Hot glue keyring string and bottoms of heart wings to the center of the second body piece. Do not glue along edge where you will be sewing. Of course if you decide not to sew, just go ahead and glue the entire thing together :)
Now sew the two body pieces together.
String a strand of black yarn through the top of head and make about 8 square knots for each antennae. You will need to use your needle to string yarn through the felt.
Patterns, Templates and Printables
Click on a pattern to open it in a new window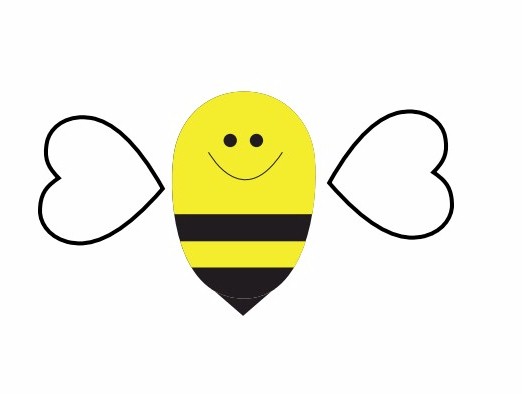 Other Images
Click on an image to open it in a new window
Contributor

Repeat Crafter Me
Sarah is a stay-at-home mom to her 1 and 3-year-old boys. She is also an artist and graphic designer that loves crafting with her kids, taking on DIY projects, crocheting and attempting to cook with the help of her Crock Pot.