Origami Doggie Family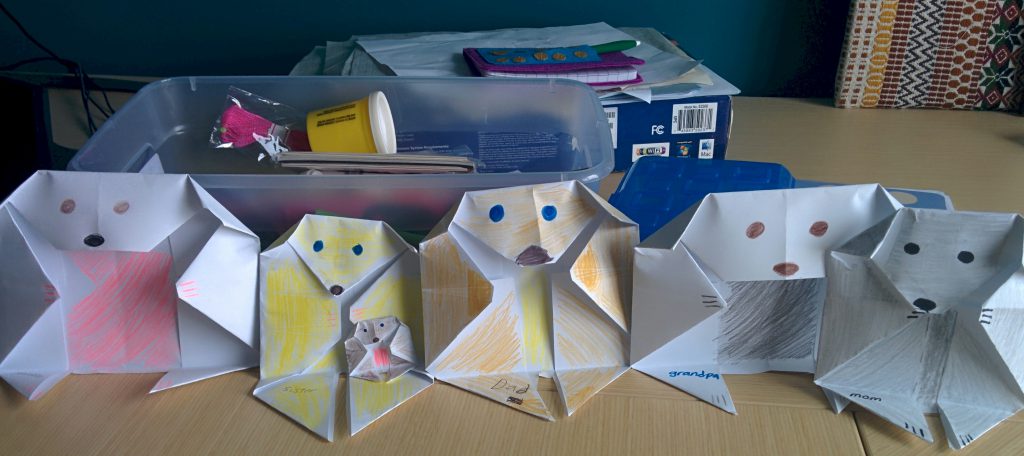 Nine year old Amelie is from West Valley City, Utah and submitted this Origami Doggie Family to our craft contest. She loves to create and spends a lot of her time drawing, making jewelry and making gifts for her friends and coming up with new ways to make things. If you look closely, Amelie made different size dogs to represent different members of her fmily.
Supplies
White Paper
Crayons
Scissors
Instructions
Fold your paper in half and then unfold it.
Fold each corner of your paper into the middle where you folded the paper.
Fold the tips of each of the two sides in to meet the middle fold line.
Fold the top and bottom like you did in Step 3.
Fold the corners of the top in and unfold the bottom.
Color your dog however you would like and make a cut between the bottom folds for legs.
Other Images
Click on an image to open it in a new window
Contributor

FreeKidsCrafts Contest Winner
IT'S A WINNER! Take a look at what one of our talented viewers submitted to share with you. This craft was selected as one of this month's winners to received $50 in craft supplies. Click here to find out how you can enter your original creation for our judges consideration.