No Sew Spider Costume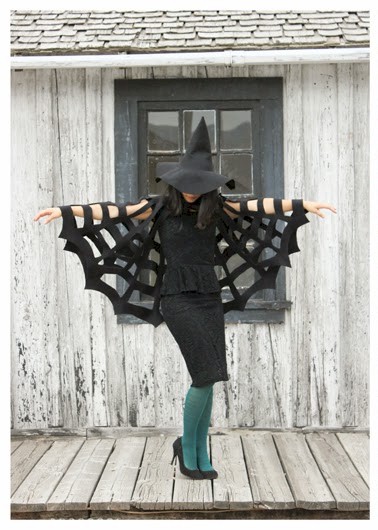 This No Sew Spider Costume can be made in any size to fit a child and or an adult who goes trick or treating with them. You won't need a sewing machine to make this one so have fun and get ready now for Halloween.
Trivia: Spiders are arachnids, not insects. Other members of the arachnid family include scorpions, mites, ticks and harvestmen.
Supplies
Fleece fabric – about 1 yard for a small child, 1 1/2-2 yards for an adult
Tailor's chalk or sidewalk chalk
1 yard of ribbon
Sharp fabric scissors
Ruler or measuring tape
Instructions
*First, I want to explain why using sidewalk chalk is so great. Regular chalkboard chalk is sometimes hard to draw with on fabric, especially fleece. Sidewalk chalk that has gotten wet and then dried again, is softer and easier to work with on this project.
1. Decide desired length for your cape and fold your fleece into fourths.
2. Mark out a quarter circle with chalk.
3. Cut it out. If the cut is not perfect, don't worry, we will be cutting more off of the bottom.
4. fold the circle back into forths and draw a circle for the neckline. You can use a T-shirt for a general guide.
Open up your circle so it is folded in half. Draw the rest of the semi-circle. You want this cut to be smooth, so it is best to cut with just two layers.
5. Draw a slanted line from one side of the simi-circle down to the bottom. This should be about 1/4 the size of the full cape.
Free-hand some spiderweb like, inverted scallops along the bottom, curving it up toward the slant just slightly.
6. Cut away at the traced lines. Add more cut out lines in the middle as desired.
Pinch the middle of the cut outs with very sharp scissors and carefully cut each drawn shape out.
7. Now that you have a symmetrical cape, hot glue pieces of ribbon to the open ends of the neckline.
8. Add fray check to the ends of the ribbon or singe them with a lighter.
Tip 1: To ensure you have enough fabric for your cape, you might want to measure how long you want the cape to be before heading to the fabric store. You do this by placing the measuring tape at the back of your neck and letting it hang down your back. Most fleece comes about 55-60 inches wide. If you want to keep this a no-sew project, keep in mind that it needs to be no longer or wider than the width the fleece comes in.
Tip 2: Measuring tape can act as a great over sized protractor when you are marking out your quarter circle. Be sure that the tip of the tape stays at the corner and that you mark the same length all the way across to get the proper arc.
Tip 3: As a general rule, a small child's neckline radius is about 2 inches and an adult's is about 3 inches.
Tip 4: If you are worried about the chalk outlines, don't fret. The sidewalk chalk rubs out very easily. If you have some stubborn spots, rub them out with a damp rag or sponge.
And that's all there is to it!
The fleece adds a little bit of warmth and there is no worry about fraying.
Other Images
Click on an image to open it in a new window
Contributor

Delia Creates
I'm Delia and I blog at www.deliacreates.com. I am a crafter, sewist, photographer, crocheter, and general DIY-er. I have three kids who I love to create for and with. They are often my inspiration and my muses. I even have a section of my blog dedicated to them, call Kids Create: http://www.deliacreates.com/kids-create.