Jack-O-Orange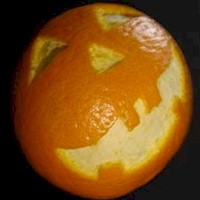 This Jack-O-Orange is a cute and easy way to display your oranges for Halloween and the kids will love it. Plus it makes the orange easy to peel.
Trivia: It is believed that Christopher Columbus was the first to bring orange seeds to America during his second voyage to the region in 1493.
Supplies
Orange
Toothpick or paring knife
Instructions
Use toothpick or paring knife to Cut out the jack-O-lantern's face. Be sure not to cut too deep you only want to puncture the peel of the orange. Caution: Watch out for the orange juice that sprays out of the peel when punctured!
Contributor

ThriftyFun
Our goal at ThriftyFun.com is to provide valuable information to help people save money, save time and solve problems. ThriftyFun and its predecessors have been online since 1997. ThriftyFun has grown from modest beginnings to become a vibrant online community. Today, ThriftyFun.com is an interactive Web site where you can post questions and contribute answers to others who are trying to have fun while saving money.