No Sew Pillow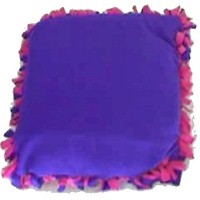 This No Sew Pillow is lots of fun and easy to do. Get the kids together with a bunch of friends and make a few. They can redecorate their favorite room with a variety of colors and patterns.
Supplies
1 Metre of Fabric
1 Cushion insert or filling
Scissors
Instructions
This is a very simple project that can be adapted to suit the materials you have on hand. I used a snugly polar fleece for this because polar fleece does not fray which will insure this pillow is durable. You can use any type of fabric, but Lycra or knit fabrics will work best as they also do not fray.
I used a large cushion insert for this that I bought ready made you can use a pillow insert of any shape or just use loose filling.
Start by deciding on the size of your cushion, if you are using a insert then you need to lay your cushion insert onto your fabric and measure a 10 cm hem larger then the insert and cut it out. This will become the tassels for tying later. You need to cut out 2 of these one for each side of the pillow case. No matter what shape your pillow is just remember make it 10cms larger then the insert and you can't go wrong.
If you are using loose filling then cut out your fabric to your desired size and shape. You will need 2 of these one for each side of the pillow.
Using sharp scissors cut a fringe of around 2cms wide and 10cms in length all the way around your pillow shape. You will need to do this to both sides of the pillow. To save time you can pin the two sides together and cut them together.
Next you need to close up your pillow. Do this by starting in one corner and tying one fringe from each side of the pillow together into a knot. (see above picture) this will join both sides. Continue to do this till you have knotted up all 3 sides.
Insert your filling or cushion insert then close up the top of the pillow by finishing off the knots.
You have finished your very easy pillow cover.
Contributor

CraftBits
Our website was created by a mother and daughter team, adding a unique combination of crafting qualities and expertise of creativity. We started our website after numerous years in the area of craft, teaching, retail craft and owning a gift store. We decided to launch it to provide resources for teachers, therapists, and craft enthusiasts in the year 1999. Since then, the website has grown tremendously in terms of content and resource information.