Flower Bottle Cap Coasters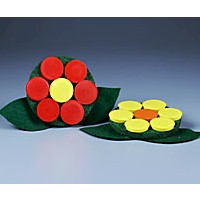 Whether you are looking for something to make for a gift or want to craft them for yourself, these bright and cheery Flower Bottle Cap Coasters will make someone happy.  They make a perfect present from kids for any special occasion.
Supplies
STYROFOAM* Brand Foam:
Block, 12" x 12" x 1/2", for one to four coasters OR
Sheet, 36" x 12" x 1/2", if making large number of coasters
Other Materials:
Green acrylic paint
Green felt, 9" x 12" sheet
Plastic milk jug caps in assorted colors, seven
Serrated knife (for adult use only); or, plastic knife
Candle stub or paraffin
Pencil
Ruler
Compass
Flat paintbrush
Disposable palette
Water basin
Paper towels
Thick, white craft glue
Instructions
NOTE: Children can safely cut the ½" foam sheet with a plastic knife; a serrated knife should be used by adults only.)
Use compass to draw 4-1/2" circle onto foam block or sheet. Repeat as many times as needed. Adults: Wax serrated knife with candle stub or paraffin and cut out circle(s). If children are cutting out the foam, have them use a plastic knife. Sand rough edges with a scrap piece of foam, and then smooth the edges with gentle pressure from fingertips or by rolling against a flat surface.
Paint all surfaces of foam circle green; let dry.
Arrange six bottle caps around foam circle, with contrasting cap in center. Be sure caps do not hang over foam edge.
Carefully remove center cap, apply glue to back edge, then replace on foam. Press down on cap, gently yet firmly, until edge embeds in foam surface. Repeat for remaining caps. Be sure all caps are level.
Cut two leaf shapes from felt; glue to bottom of coaster. Let dry completely.
Contributor

Styrofoam Brand Products
STYROFOAM™ brand from Dow is one of the most trusted and widely known brand names in the craft industry. From Christmas ornaments to wedding topiaries, they have helped shape your crafting memories for 60 years. Today, their high-performance foams are helping you make tomorrow's memories.