No Glue Fall Nature Collage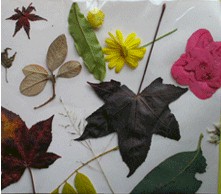 This no-glue Fall nature collage is such a simple craft that even toddlers can get involved. It's also a lovely way to appreciate the seasonal changes in your natural environment. Make it to hang on the refrigerator or as a special gift for Grandma.
Originally published September 5, 2007
Supplies
Clear Sticky Contact Paper
White Cardboard
A Selection of Colorful Things From Outdoors
Instructions
Collect a range of leaves, grasses, flowers/petals and other things that are in your backyard this season.
Find a clean flat surface and peel the back off a large piece of sticky contact. You may need to put something on each of the corners to keep them from folding up. Start placing your leaves and other outdoor objects onto the sticky contact.
When you`ve finished, place a piece of card over the top of your collage and fold the contact around the card.
And there you have a beautiful seasonal collage.
This craft reprinted courtesy of KidsCraftWeekly.com
Contributor

kids craft weekly
Each issue of Kids Craft Weekly outlines a selection of activities for young kids. The ideas in are intended to be cheap, educational and fun and can be used as suggested, or simply as a starting point from which you can develop your own plan of attack.