Make Christmas Ornaments From Recycled Keys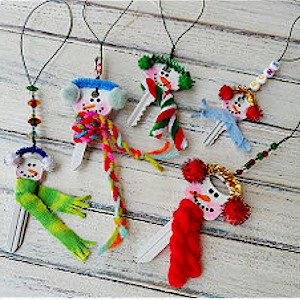 We all have lots of keys left over from doors we'll never remember. Here is the perfect way to repurpose those old keys into a fun Christmas craft project for the kids. You can make all kind of Christmas Ornaments from recycled keys and have fun recycling too.
Supplies
Recycled Keys
White Spray Paint
Floral Wire
Beads
Pom Poms
Pipe Cleaners
Fabric
Yarn
Hot Glue Gun
Wire Snips
Scissors
Paint: Pink, Black, Orange Glitter
Instructions
Spray paint keys white on both sides, two coats should be sufficient.
Create hangers using floral wire. Bend the wire in half to create a loop and twist to secure. You can leave your wire plain or add beads before twisting to secure throught the hole in the top of the key.
Add earmuffs by hot gluing pieces of pipe cleaner across the top of the key, covering up the wire. Add a pom pom to each side.
Create scarves using fabric, yarn, pipe cleaners or even old t-shirts. Use hot glue to secure.
Dab pink paint onto a scruffy paintbrush and dab off the excess onto a rag. Lightly tap onto the key to add rosy cheeks.
Use a toothpick dipped in black paint to add eyes and mouths, then use a toothpick dipped in orange glitter paint to add noses.
Contributor

Crafts By Amanda
Amanda Formaro is the crafty, entrepreneurial mother of four children. She loves to bake, cook and make crafts. She is the craft expert for FamilyCorner.com and Kaboose.com. You can see her crafty creations on http://craftsbyamanda.com" Amanda's Crafts by Amanda and her delicious recipes on http://www.amandascookin.com/ Amanda's Cookin'.