No Bake Christmas Cake Pops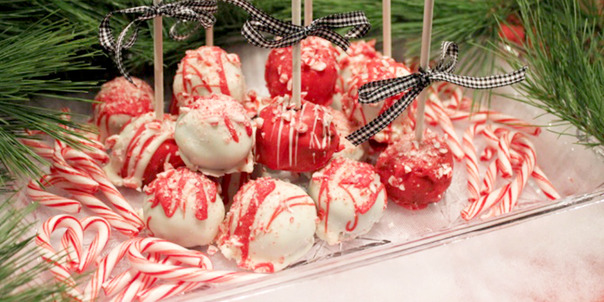 No Bake Christmas Cake Pops are the perfect addition to your Holiday table especially if you are running short on time. The kids will smile from ear to ear and Santa might like to have a couple set out for him with his glass of milk.
Supplies
Spangler Red & White Mini Canes
One 16 oz package mint Oreos
1 8oz block of cream cheese
2 bags of candy melts (we used white and red)
Lollipop sticks & ribbon (optional)
Instructions
Unwrap a large handful of Spangler mini candy canes. Crush candy canes into pieces - some smaller, some larger. We recommend placing the candy canes into a large Ziploc bag and crushing with a mallet or the side of a rolling pin. Set aside.
Next, place the entire package of Oreos in a food processor. Pulse until the mixture resembles crumbs.
Add cream cheese to the mixture. Mix in the food processor until well combined. You may have to scrape down the sides and "help" the mixture along if it gets stuck.
Next, form into 1-inch balls, then place in the fridge for at least one hour to chill.
Prepare candy melts according to package directions.
Dip the balls in the candy melt mixture and place on wax or parchment paper. We used two spoons as we rolled the Oreo truffles in the candy mixture to get them evenly coated. Drizzle with a second color if desired. Finish by sprinkling with crushed candy canes.
Contributor

Spangler Candy
Spangler Candy, located in Bryan Ohio,  has been making candy since 1906 and has recently started making crafts and recipes to share with all lovers of candy canes, Dum Dum Pops and other candy favorites. You can learn more about Spangler at http://www.spanglercandy.com.