Mini Marshmallow Sheep Ornament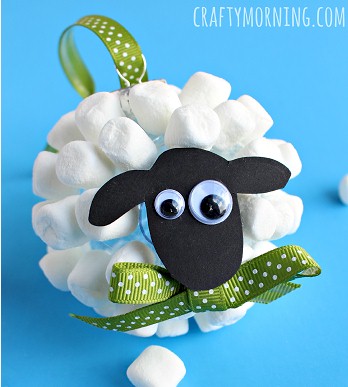 Make this adorable Mini Marshmallow Sheep Ornament as a family project with the kids. It takes a hot glue gun so you have to make sure an adult supervises the younger children. For other times of the year you can make it for Australia Day.
Supplies
Mini marshmallows
Ribbon
Black card stock paper
Googly eyes
Clear glass or plastic ornament bulb
Hot glue gun
Black marker
Instructions
Start by drawing a circle or oval on the ornament bulb so you know where to put the sheep's head. Put a strip of hot glue around the top and stick on the marshmallows. Do the next row and so on.
Cut out a sheep's head from the black card stock paper then cut a strip of  black bending it back and forth. Glue that to the head and then to the bulb so it sticks out more.
Glue on a some eyes and a polka dot bow under the face to complete him!
Contributor

SassyDealz.com
"Michelle has a teaching degree and for the love of art she started sharing kids crafts on her blog to inspire teachers, parents, and the little ones! SassyDealz.com is not only a craft website, but also a place where you can find online bargains and freebies!"