Native American Buddies Paper Dolls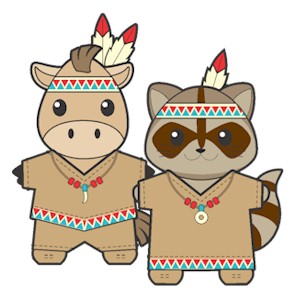 We have provided you with the Pilgrim Thanksgiving Buddies Paper Dolls and now we are adding their Native American guests to make Thanksgiving complete.
Supplies
Printer
White Cardstock for the Paper Dolls
White Paper for Costumes
Scissors
Markers, Crayons or Colored Pencils (optional)
Glue Sticks or Glue Dots
Instructions
Print out either the black and white version or the colored version of the Native American costumes and paper dolls. You can use plain white paper for the paper doll, but the cardstock holds up better.
If you prefer to use one of our previous buddies paper dolls you can select one of the Black and White Buddies or Colored Buddies from previous crafts.
For those who are using the black and white versions, we suggest that you color them before cutting out. It makes it so much easier.
Once you have cut it out you are ready to glue the costume to your paper doll and let the playtime begin. Click on Pilgrim Thanksgiving Buddies Paper Dolls to complete your set of paper dolls.
Patterns, Templates and Printables
Click on a pattern to open it in a new window