Musical Jingle Sticks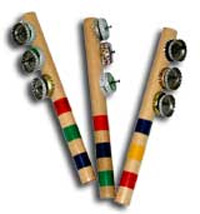 These Musical Jingle Sticks are a great addition to the family of musical crafts you can make with the kids. It may not be a craft the kids can not make by themselves, but it is one in which an adult may want to participate.
Trivia: The best known percussion instrument is the drum. The largest drum kit ever used is used by Neil Peart and it has 30 or more pieces to it.
Supplies
Two six inch dowel sticks
Saw
Hammer
Nails
12 bottle caps
Markers
Paint or colored tape
Instructions
This craft requires some handyman skills. Get Mom, Dad, Granddad or any adult to participate. You've also got to start saving bottle caps, six per stick, 12 in all.
The younger the children, the more help and supervision they are going to need, this isn't a simple project, it requires manual skills.
Cut two six inch dowel sticks. Decorate.
Using a large nail, hammer holes in the centers of the bottle caps.
With ordinary nails, hammer three sets of 2 bottle caps along one side of the dowel stick. Be sure to leave enough space below for a handle.
Contributor

Kabubble
With ten years of "Grand" parenting behind the team at Kabubble they've come up with lots of ideas on how to have lots of fun along the way and they have created treasured memories. This site shares those ideas with all grandparents and parents.