Mommie and Me Handprint Fish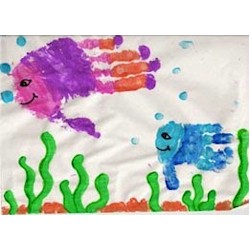 This simple handprint craft illustrates the connection between Mother and child and will bring a smile to both their faces for many years.
Supplies
Paper
Paint
Paintbrush
Instructions
To make this super cute Handprint Fish, paint stripes in however many colors you'd like across the child's fingers.
Paint a face on the bottom of the palm and then paint the remainder of the palm a different color (see the picture for reference).
Press hand onto the paper. Now do the same for Mommie.
 I also made bubbles with his fingerprints and painted green seaweed.
When it dries, draw in the eye and mouth with black paint.
Contributor

Handprint and Footprint Art
Amanda (a.k.a. Artsy_momma) of Handprint & Footprint Art is dedicated to teaching creativity and encouraging imagination in children. You will find craft ideas for creating handprint, footprint, and fingerprint art- everything from keepsakes to holiday art as well as just for fun crafts!