Milk Carton Pirate Ship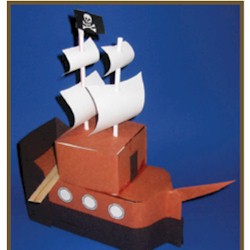 Make this pirate ship for a wonderful birthday party decoration or  into the Nina, Pinta or Santa Maria for Columbus Day.
Supplies
2 Empty Milk Cartons
All Purpose Glue
2 Sheets each Black and Brown Construction Paper
2 Drinking Straws (non flex if possible)
Scissors
Hole Punch
2 Small Globs of Play Dough
Instructions
Cut segment from bottom of one milk carton. Trace sides of milk carton and segment onto brown construction paper. Cut out pieces and glue onto segments as shown in the pictures below. Puncture two holes in square carton segment.
Embellish with black pieces of construction paper as shown.
Insert straws into square sement. Place small pla dough blobs as shown to help hold straws in place. Place segment on top and glue to secure.
Allow to dry.
Click on Printables and print out portholes (or make your own). Cut out and glue on the side of your ship.
Click on Printables and print out sails (or make your own) 2 of each. Cut out sails. Punch holes where indicated and insert into straw masts.
If you are making a pirate ship, click on printables and print out the Jolly Roger pirate flag. Fold over a tooth pick as a rod and insert into one of the straws.
Patterns, Templates and Printables
Click on a pattern to open it in a new window