Make A Ship From A Recycled Milk Carton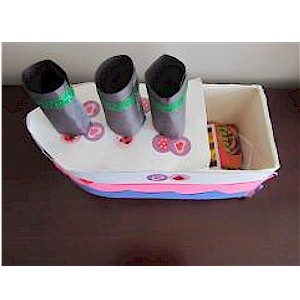 We all have lots of half gallon cardboard milk or juice cartons that we throw away every week.  Our contest winner,  six year old Evan from Columbia, Missouri, created this fun craft with his older sister and likes to read and play chess, as well as make craft projects at school, especially of the literary nature (such as picture books, storyboards, etc). The kids will have fun recycling thee cartons into a flotilla of boats that can be used to hold odds and ends like paper clips or push pins. I'm sure they will think of even more uses, including just playing with them with their friends.
Trivia: Did you know that ships have to be big enough to carry boats, and boats have to be small enough to be carried by ships. There are some exceptions like submarines and some commercial fishing vessels.
Supplies
Half-gallon carton
Construction paper
Glue stick
Tape
Decorations
Instructions
To Make A Ship From A Recycled Milk Carton follow the steps  below.
Step 1: Make sure the carton is washed and clean. Cut off the plastic spout or tape it shut.
Step 2: For the bow of the ship, cut a 3¾- by 10-inch strip from a cereal box, fold it in half, and tape it in place on the top of the carton (where the sides slant in).
Step 3: Use the tape and glue stick to cover the carton with colorful construction paper. Cut a mail slot on the top of the ship.
Step 4: For smokestacks, roll three 2½- by 5-inch pieces of black paper into cylinders and apply glue to the overlap. Add thin paper stripes. Glue the stacks to the deck.
Step 5: Decorate with stickers, glitter, ribbons, and whatever else you please, and it's finished!
Contributor

FreeKidsCrafts Contest Winner
IT'S A WINNER! Take a look at what one of our talented viewers submitted to share with you. This craft was selected as one of this month's winners to received $50 in craft supplies. Click here to find out how you can enter your original creation for our judges consideration.
Sorry - Comments are closed