Marshmallow Bunny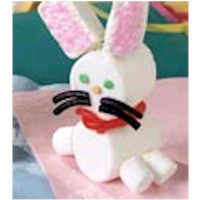 Who doesn't like marshmallows and the kids will love this yummy little Marshmallow Bunny.  Make one for each of the kids at the party.
Supplies
7 JET-PUFFED Marshmallows
Colored sugar
2 Tbsp. ready-to-spread white frosting
Assorted candies
6 JET-PUFFED Miniature Marshmallows
This is enough for two bunnies.
Instructions
CUT 1 of the large marshmallows into quarters for the bunnies\' ears. Press one of the cut sides of each marshmallow piece into colored sugar. Use some of the frosting to attach two of the ears to each of 2 of the remaining large marshmallows to make two bunny heads. Add candies as desired to make the faces, attaching candies to marshmallows with frosting.
CUT each of 2 of the remaining large marshmallows in half for the two bunnies\' feet. Use frosting to secure a foot to each side of the remaining 2 large marshmallows for the bunnies\' bodies.
ATTACH 2 of the miniature marshmallows to the front of each bunny for the paws and 1 miniature marshmallow to each bunny for the cottontail, using some of the frosting to attach each piece. Use remaining frosting to attach the heads to the bodies. Let stand at room temperature until frosting is dry.
Contributor

Kraft Foods
For over two hundred years, many companies have united to make Kraft Foods what it is today. Check out their heritage page and learn the many companies that comprise the Kraft family of foods.