Marbelized Fish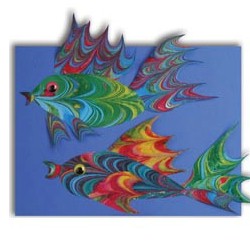 Create your own exotic fish and dream of snorkeling in the seas surrounding a tropical island.
Supplies
White Sulphite Paper
Scissors
Glue
Construction Paper
Wiggle Eyes
Marbeling Kit
Instructions
Step 1: Mix ingredients according to packaging instructions. With Jacquard Marbling Colors, marble several sheets of sulphite paper. When marbling, try imagining fish patterns. Tip: Using distilled water for mixing ingredients helps marbling colors float better.

Step 2: Cut fish body and fin shapes out of the marbled papers with scissors. Students may wish to trade marble scraps to add variety to their fish.

Step 3: Arrange and glue the marbled fish body to a piece of construction paper. Attach fins and tail by the edge only, crease and shape to give a 3-D flair. Apply a wiggle movable eye to each fish with glue.

Optional Tip 1: Pre-tyour marbling surface with allum for a cleaner transfer! Just soak your paper in an allum bath, remove and then allow it to dry prior to marbling.
This craft is reprinted courtesy of United Art & Education.
Contributor

United Art & Education
United Art & Education offers over 150 Free Project ideas for the art classroom or at home.  Discover a unique selection of products that make learning creative and fun! Choose from teaching resources and decorations, early learning items, and a range of art materials for art educators and students, plus some great gifts.