Make A Valentine Heart Tree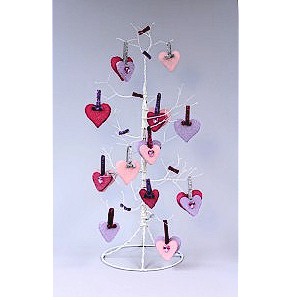 We thought a Valentine Heart Tree would be the perfect craft for kids to make and decorate for Valentine's Day.  You can go on an adventure and search for the perfect branch. Have the kids bring back a few branches because they may look different when they are painted and ready for decorating.
Trivia: Some believe that St. Valentine served as a priest in third century Rome. At that time, Emperor Claudius II had a standing decree that young single men were not to marry. The Emperor thought that marriage and children were a distraction to men of fighting age who were needed to serve as soldiers with their full allegiance given to Rome. St. Valentine married them secretly.
Supplies
FloraCraft® Foam: Block, two 7/16″ x 11 7/8″ x 11 7/8″
9″ diameter x 26″ tall white wire tree
Design Master®:
ColorTool® Spray Color: Tropical Dawn (dk. pink), Perfect Pink (lt. pink) and Hyacinth (lavender)
Silver Glitter Spray
Heart-shaped metal cookie cutters, one each: 2 1/4″ and 3″ diameter (Note: Cutters must be open on top and bottom)
Glitter ribbon, 1 1/4 yard of 3/8″ wide of each: dark pink, purple and silver
Heart-shaped gems: six 3/4″ diameter pink
12″ x 12″ Self Healing Cutting Mat
5″ Precision Tip Scissors
12″ Metal Ruler
Glue gun and glue sticks
Old newspapers
Instructions
To Make A Valentine Heart Tree  place Foam Block on Cutting Mat and press large cookie cutter through foam. Remove heart from cutter and repeat to make a total of nine large and nine small hearts. (Tip: To smooth, rub foam scrap against edges of hearts.)
In well-ventilated, newspaper-covered area, spray fronts and backs of three large and three small hearts in each color: Tropical Dawn, Perfect Pink and Hyacinth. Let dry. Spray all hearts with Glitter Spray.
Single heart: Cut 1″, 3″ and 6″ lengths silver ribbon. For hanging loop, fold 6″ length in half and glue ends on top back of small Tropical Dawn heart. For bow, fold in ends of 3″ ribbon, at middle and glue. Wrap 1″ length around center, glue and trim excess length. Glue bow to top front of heart. Repeat to attach silver ribbon loop and bow to large Tropical Dawn heart. Similarly cut and attach dark pink ribbon to large and small Hyacinth hearts and purple ribbons to Perfect Pink hearts. Set aside.
Stacked heart: Similarly attach 6″ length silver ribbon hanging loop to back of small Hyacinth heart. With heart points aligned, stack and glue small heart on large Tropical Dawn heart. Glue heart gem in center. Repeat to make another same color heart pair. Then, make two stacked pairs with purple ribbon, small Tropical Dawn and large Perfect pink hearts; and two stacked pairs with dark pink ribbon, small Perfect Pink and large Hyacinth hearts.
Similarly make two – three bows of each color ribbon and randomly glue bows to branches.
Contributor

FISKARS
You can read creative and compelling articles by industry experts and get great new project ideas in the areas of home decorating, kids crafts, party invitations, scrapbooking, sewing, quilting, and more! In addition, fiskarscrafts.com will feature how-to videos on some of Fiskars' coolest products, offer live online customer service, and have a crafting message board.