Lincoln Penny Silhouette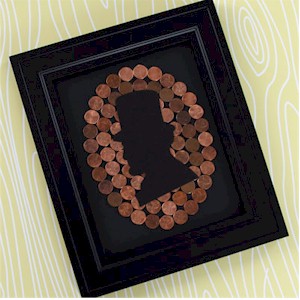 Have the kids make this Lincoln Penny Silhouette as they learn about the accomplishments of our 16th President.  It will be fun for them to see all of the different dates that show up on their pennies. See who can find the oldest one. For a little more fun, see if the kids can find a penny that was minted in the year they were born.
Trivia: The first Lincoln penny was minted in 1909.
Supplies
Craft knife (adult use)
Pennies (approximately 50)
Aleene's® Acid-Free Tacky Glue™
Scissors
Cutting mat
Disposable foam brush
Black construction paper or cardstock
Black foam core board
Ruler
Instructions
1. Cut foam board down to an 8" x 10" size.
2. Using a pencil, draw an oval onto foam board.
3. Lay pennies face up inside oval until oval is filled. This will help to determine proper placement of pennies.
4. Pick up a penny, add glue to the back and press back in place. Repeat for each penny.
5. Trace Lincoln silhouette onto construction paper or cardstock and cut out. Lightly brush glue onto the back of silhouette and press onto center of pennies as shown. Let dry completely.
Patterns, Templates and Printables
Click on a pattern to open it in a new window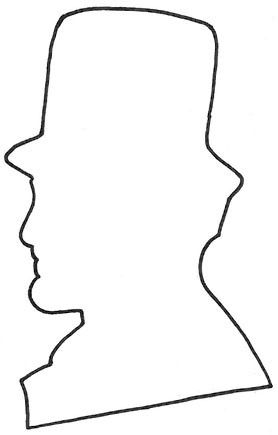 Contributor

ILoveToCreate.com
Where you can explore and share, crafters can play and artists can grow!