Make Fingerprint Faces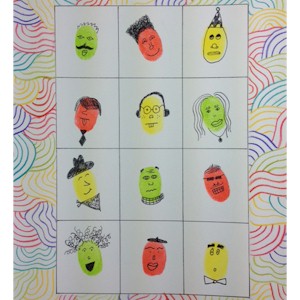 The kids will have fun learning how to Make Fingerprint Faces. They can design them to look like friends and family or create a whole new set of faces from their imagination.
Trivia: An English police official, Sir Edward Richard Henry, invented the fingerprint classification system In 1896. Fingerprints fall into three main categories: the arch, the loop and the whorl.
Supplies
White Paper
Fine Point Black Pens
3 stamp pads in different colors with non-toxic ink
Colored pencils
Ruler
Pencil
Instructions
1. With a pencil and ruler, draw a border around your page. It should be 1-1.5" thick. Trace your border with your black pen and ruler.
2. Create a pattern in the border with the colored pencils. Fill it all in!
3. With your ruler, draw a grid inside the border of 9-12 squares. Trace it with your ruler and black pen. Each of your thumbprint people will live inside one of the boxes!
4. Press your thumb into one of the ink pads, make sure its covered with ink!
Print your thumb into one of the boxes. Repeat this in different colors until you have filled each box with a thumbprint.
5. Using your black pen, draw faces, hats, freckles, bow ties and whatever you would like on each of your thumbprint people!
Contributor
HANDS ON Crafts for Kids
Remember what we all say at Hands On Crafts for Kids, "there's no right or wrong way to crafting…only our way!" We hope that you will join us for Hands On Crafts for Kids – Back to Basics.