Learn How To Do Stained Glass Painting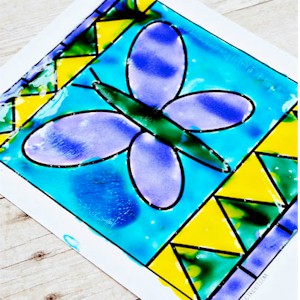 Everybody loves stained glass and here is an easy way for the kids to Learn How To Do Stained Glass Painting with Karo syrup. Well it is really faux stained glass, but they will love the end result. It's messy so make sure they are dressed appropriately.
Trivia: Based on remains found at Pompeii and Heraculaneum, stained glass was first used by wealthy Romans in their villas and palaces in the first century A.D.
Supplies
corn syrup
food coloring
paintbrushes
printable stained glass painting sheets
Instructions
Pour corn syrup on a plate or in a bowl. Mix a small amount of food coloring in the corn syrup.
Give the kids a paint brush and let them lay it on thick. No seriously. It looks better when it is spread on thicker.
It is also best to have them wear an apron, or better yet a swimsuit because it can get messy. It is also a good idea to pull hair back in a ponytail.
Patterns, Templates and Printables
Click on a pattern to open it in a new window
Contributor

The Craft Nest
Alanna began her career as a Design Manager in the scrapbooking industry. After the birth of her first daughter she turned freelance designer, crafter and stay-at-home mom. She resides in Michigan with her husband and their four kids (2 girls and 2 boys). You can find more crafting ideas and how to's at her blog, Alanna George | The Craft Nest (www.alannageorge.com).