Make A Paper Loop Penguin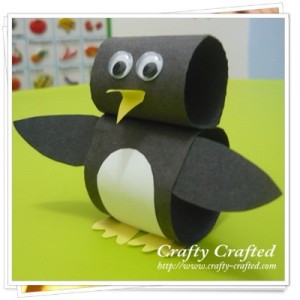 Here is the way to Make A Paper Loop Penguin. The kids can add this cute little penguin to their collection of easy to make paper loop animals.  And who doesn't like these funny little creatures.
Supplies
Black Construction Paper
White Construction Paper
Yellow Construction Paper
Scissors
Glue Dots or Glue Stick
Wiggle Eyes
Instructions
Get a strip of black paper.  You need to cut two strips. One slightly longer than the other
Roll them to form a loop and paste the end. Do the same for the other strip and you'll have two loops. Put some glue on the joining and paste the two loops together
Cut two flippers from the black paper and paste.
Paste wiggle eyes.
Cut an oval out of a white piece of paper and paste.
Using the picture as a reference, cut a beak and feet out of yellow paper and glue to your penguin.
Your paper loop penguin is done.
Contributor

Crafty-Crafted.com
Crafty Crafted is a craft idea center suitable for children or toddlers to follow. By crafting, children will be able to gain control of their motor skills and thus improving the creative side of their brains.