Make A Fossil Print From Kitchen Ingredients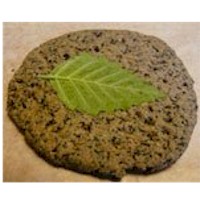 Summer is a wonderful time for you to Make a Fossil Print From Kitchen Ingredients and to explore nature. Collect twigs, leaves and other items and discover the fun of creating your own fossils. This is a craft you might like to try at camp or for the VBS Cave theme.
Supplies
1 cup Flour
1/2 cup Cold Coffee
1 cup Coffee Grounds (used)
1/2 cup salt
Collect: Twigs Leaves Shells Tiny bones
Instructions
First, have the kids go outside and search for treasures to make into their Fossils.  Good things to use are twigs, leaves, shells, tiny bones, hard-shelled bugs.
Next, measure all ingredients and put into a bowl.  Stir well.  If the mixture seems a little too moist (it should resemble a dlough consistency), add a little more flour.  Knead until smooth.
Work the dough into smooth balls and then flatten on a piece of waxed paper.
Press objects into the clay, using one or more of the collected items.  Remind kids to share.
Allow all fossils to dry thoroughly before removing from the waxed paper.
Contributor

Ziggity Zoom
*ZiggityZoom* is recognized as a Best Kids site, featuring Fun Crafts, Games and Printables.   This family site is a destination for parents and kids for Recyclable Craft Projects & Educational Fun.