Love Doorhanger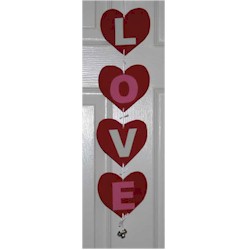 This Love Doorhanger is a great kids craft for Valentine's Day. Using some craft foam, ribbon, jingle bells and the printable template you can create a beautiful homemade Valentine's Day decoration.  Let the kids spread the love around by hanging their Love Doorhanger on every door in the house.
Supplies
1 piece of white craft foam
1 piece of pink craft foam
White ribbon
3 jingle bells
Hole punch
Glue
Heart Template
Letter Templates
Instructions
Print out the template for the Love Doorhanger and cut out the pieces.
Trace the heart shape onto red craft foam. You will need 4 red hearts.Trace the letters "L" and "V" onto white craft foam and the "O" and "E" onto pink craft foam. Cut out all of these pieces.
Glue one letter onto each heart.
Punch a hole in the top and bottom of each heart (in the center of the top of the heart and the center of the very bottom of the heart).
Cut small pieces of ribbon (3-4 inches) and use the ribbon to tie the bottom of one heart to the top of the next in order so you spell out the word "LOVE". At the top of the "L" heart use a longer piece of ribbon to use as a hanger. At the bottom of the "E" heart thread 3 jingle bells onto the ribbon and then tie it onto the heart.
Hang your craft on the door.
Patterns, Templates and Printables
Click on a pattern to open it in a new window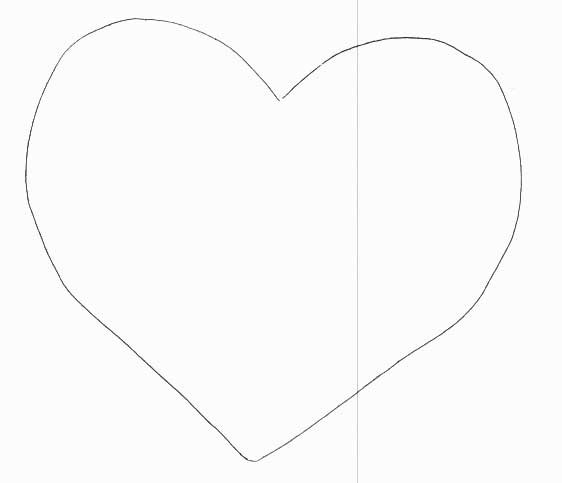 Contributor

AllKidsNetwork.com
All Kids Network is a network of websites dedicated to providing fun and educational activities for parents and teachers to do with their kids. We have hundreds of kids craft ideas, kids worksheets, printable kids activities and more. So far, we have two main sites - allkidsnetwork.com and kidslearningstation.com.