Balloon Birthday Party Pops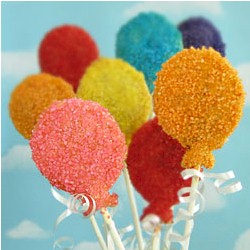 Balloons have always been a big part of parties, especially birthday parties. This project takes that theme a step further and is a good way for the kids to get involved with the preparations.
Supplies
1 Pillsbury Pie Crust (or use homemade crust)
Flour for dusting work surface
Egg wash (1 egg mixed with 1 teaspoon water)
Fillings - Nutella, jam, pie filling, peanut butter
Colorful sugar crystals*11.5" long lollipop sticks
Rolling pin/fondant roller
Balloon cookie cutter
Spoon (or use a disposable pastry bag)
Pastry brush
Baking sheet lined with parchment paper for ease of cleaning
*Use as few or as many colors as you\'d like. You can buy individual bottles of colored sugar crystals or buy containers with up to 6 different colors. Just be sure to use the large crystal sugar for this recipe. I tried adding food coloring to granulated sugar and decorating these pastries with it, but wasn\'t happy with the result. The larger crystals look much nicer.

Instructions
Thaw pie crust according to package instructions or make homemade dough according to recipe.
Dust a cutting board or counter lightly with flour. Unroll dough and use a rolling pin to roll it out to about a 13" round. Use the balloon shaped cookie cutter to cut out 24 balloons, re-rolling dough as needed.
Brush 6 of the pie dough balloons with egg wash using a pastry brush. Spoon (or pipe with a disposable pastry bag) about 2 teaspoons of Nutella, jam, pie filling, or peanut butter in the center of each balloon. Stick a lollipop stick into the filling. Set a second pie dough balloon on top and press the edges together sealing well. Repeat until you have 12 balloon pops.
Brush egg wash over the top of each of the balloons and sprinkle on colored sugar crystals. Move the balloons carefully onto a parchment paper lined baking sheet. I was able to pick them up by the lollipop stick and move them. If you bake them with a bunch of excess sugar around them, the sugar will clump together and the edges of your balloons will be misshapen.
Refrigerate balloons for 30 minutes. Meanwhile preheat your oven to 400 degrees. Bake chilled balloons for 8-10 minutes. Allow to cool completely.
Once cooled you can tie ribbons onto the sticks and arrange in a container such as a vase. You can alternately package each pastry pop in a cellophane bag, tying the ribbon on the outside of the bag. Keep stored in an airtight container for a few days.
This project is reprinted courtesy of Hungry Happenings.
Contributor

Hungry Happenings
Beth Jackson Klosterboer is the author of Hungry Halloween featuring Movie Monster Munchies, Bewitched Buffet, and Dead Man\'s Diner. She has been a chocolatier and party planner for over 20 years and creates edible crafts which she features on her her blogs, http:www.HungryHappenings.com and http://www.HungryHalloween.com.