Kids Easter Bunny Napkin Ring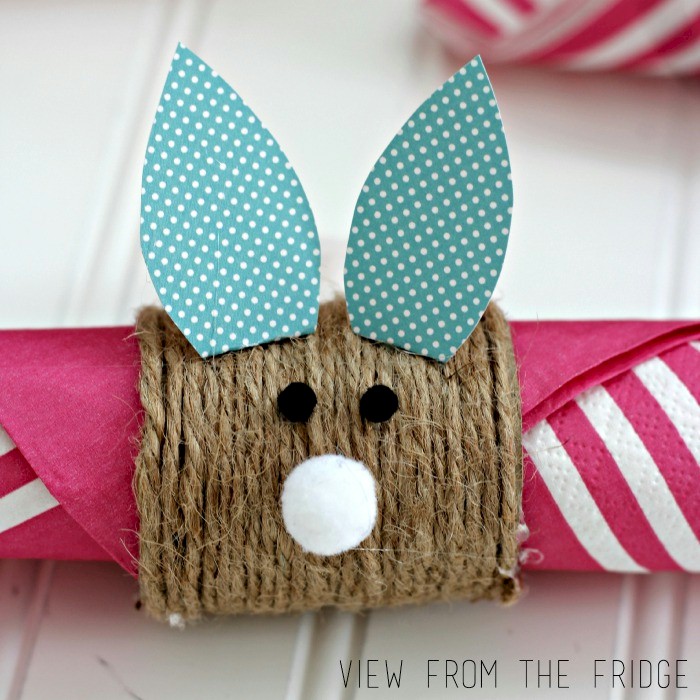 This Kids Easter Bunny Napkin Ring is just what you need to make the kids' table as special as the one for the big folks. It will be part of their memories as they look back at the special occasions in their young lives.
Supplies
Cardboard Tube
Twine
Scrapbook Paper
Hot Glue
Mini Pom Pom Eyes
Pom Pom Nose
Cotton Ball Tail
Instructions
Cut cardboard tube in half and run a strip of hot glue down the middle, wrapping the twine around the tube. Anchor the beginning end with a dab of glue to hold.
Add a couple ears made out of scrapbook paper and hot glue on.
Then using the picture as a reference, add some mini pom pom eyes and a pom pom nose with a cotton ball for a tail.
Contributor

View From The Fridge
Katie is the writer and creator of View From The Fridge. She is also the mom to two adorable little boys (and another baby on the way), and wife to a great guy! She loves to craft, decorate, dream up projects for her home, and she's learning to love to cook (though not there quite yet). She started View From The Fridge in the fall of 2013. Katie also enjoys coffee, a good glass of wine or beer (when she's not expecting!), running, and anything outside. She lives in Minnesota and takes full advantage of the wonderful (but short) summer season outside with her family.