Jumping Frogs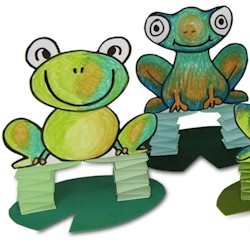 The kids will really enjoy making these frogs leap up and down and get ready for Spring.
Supplies
Green paper or card
Scissors
Glue stick
Pens/pencils/crayons
Instructions
1. Cut out the frog and the 4 strips it sits on. Cut it as one piece – do not cut off the strips.
2. Fold one of the middle strips so it is adjacent (at a right angle) to the outer strip.
3. Fold the outer strip up.
4. Follow the arrows on the illustrated instructions.
5. At the end of the strips, glue the flaps down to secure.
6. Repeat with the other 2 strips and fold the frog over so it stands straight up.
7. Cut a lily pad shape from the green card and glue the frog's legs to the pad.
8 The frog can now spring up and down.
You will find even more frog patterns at Jellyfish Jelly - Creative Kids.
Patterns, Templates and Printables
Click on a pattern to open it in a new window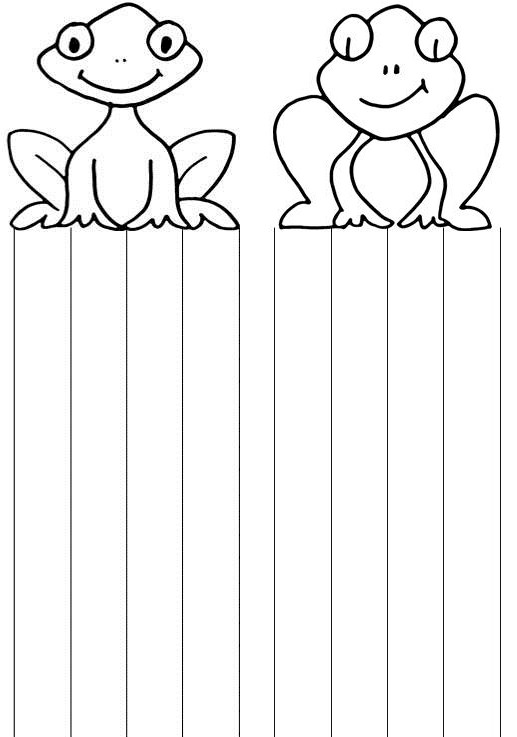 Contributor

Jellyfish Jelly – Creative Kids
Jellyfishjelly is the work of Miya Maeda."My work is intended to be a simple guide for non-crafty, "creatively-challenged" parents.  The concept behind this site arose from what I perceived to be the near universal need for parents of small children to find novel and challenging activities to occupy what can sometimes seem like a very long day."