Homemade Easter Hat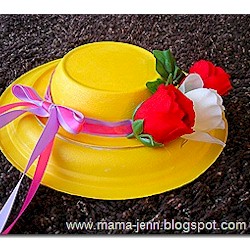 Get the kids into the fun of their own Easter Parade by making Homemade Easter Hats.
Supplies
Sturdy paper plate
Sturdy paper bowl
Paint
Ribbon
Fake flowers
Glue
Instructions
First turn the plate and bowl upside down. Put the bowl on the plate and trace the circle. Cut about an inch or so inside the circle...this makes it so that your hat is actually wearable!
Next, glue the bowl to the plate. We used a glue gun...because we didn\'t want to wait long for it to dry. Then, paint the plate and bowl. We used a glossy, yellow acrylic paint so that we could get away with just one coat.
Finally, once the hat is dry, embellish it with ribbon and flowers and attach it all using the glue gun.
This craft is reprinted courtesy of Mama-Jenn.blogspot.com. 
Contributor

Mama-Jenn.blogspot.com
I am a Christian wife and home-schooling mama striving to be a Proverbs 31 woman! I am blessed with 5 kids, including one princess and two sets of twin boys! In my "spare" time I enjoy scrapbooking, though blogging seems to be taking its place. I currently have three main blogs. This is my family/homeschool/craft/everything blog. The Homeschool Resource List is a collection of all the free online resources that I have found for homeschoolers. The "Brown Like Me" Book Review is a collection of books featuring "brown" characters. I also write for Totally Tots, which is a blog dedicated to those with toddlers.