Jelly Bean Eggs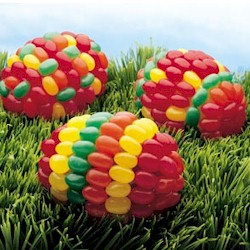 Jelly Beans are colorful and make wonderful Easter Eggs to display in your favorite basket or Easter centerpiece.
Supplies
Plastic Easter eggs
JOLLY RANCHER Jelly Beans
Glue stick or low temp hot glue gun
Instructions
Create a mosaic pattern by gluing jelly beans to plastic eggs. Begin your pattern around the center of the egg and work one row at a time, completing one circle at a time.
Arrange in a basket to create an exciting table centerpiece or enclose a special prize and hide for your Easter egg hunt!
Completed craft is for decorative purposes only. Candy used in craft should not be eaten.
This craft is reprinted courtesy of Herseys.
Contributor

Hersheys
© The Hershey Company is the largest producer of quality chocolate in North America and a global leader in chocolate and sugar confectionery and is headquartered in Hershey, Pa.