Beaded Key Ring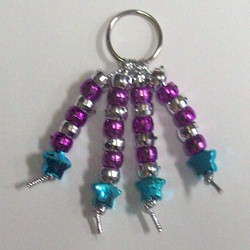 Beads are a fun craft material. You can use this project to use up odds and ends of leftover beads.
Supplies
26 Metallic Pony Beads
4 Star Pony Beads
Key Ring
18" of Metallic Cord
Craft Glue
Scissors
Instructions
Cut two 9" pieces of cord. Stiffen ends with craft glue. Let dry.
Fold cords in half. Tie to key ring.
String six pony beads on the outer cord.
String seven pony beads on the inner cords.
Finish each cord with a star pony bead.
Tie a double know under each star. Trim.
Contributor

Terri Bose of MakingFriends.com
Terri is the creator of makingfriends.com, freekidscrafts.com, scoutswaps.com and badginabag.com. Her work is republished all over the internet and is considered the queen of kids crafts.