Japanese Hair Comb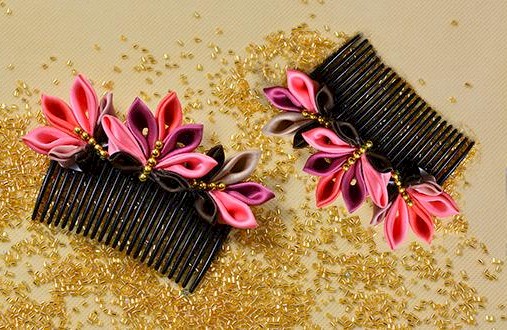 This pretty Japanese Hair Comb is easier to make than it looks at first glance. We've provided pictures to make the directions easy to understand and the finished product is one that you will be proud to give as a gift or keep for yourself.
Supplies
4cm Satin ribbon
Plastic hair comb
Brass round beads
Glue gun
Scissors
Tweezers
Instructions
Cut off several pink , orange and black square satin ribbons and fold them along the diagonal line.
Continue to fold them at the center point , and then paste the two sides with glue gun.
Paste the ready pink, orange and black petals on the felt with glue gun, please see the picture below.
Add 5 brass round beads in the center.
Repeat the same ways to make other two flowers.
Paste one ribbon flower in the middle of the plastic hair comb with glue gun.
Paste another two ribbon flowers beside the two sides.
Other Images
Click on an image to open it in a new window
Contributor

Panda Hall Learning Center
Pandahall Learning Center is a large and free active online community on jewelry craft knowledge sharing. It collects thousands of jewelry making projects, techniques instructions about beading, wire wrapping, braiding etc.,as well as craft ideas and customer shows.