Fork Dandelions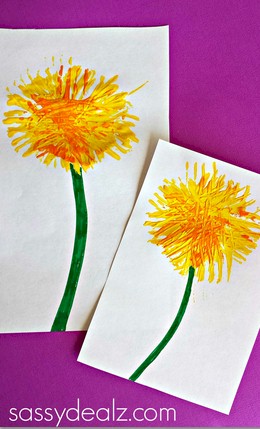 Fork Dandelions  are a quick way to create a lot of petals in a short span of time. Children will love to see the dandelions form before their eyes in no time and it takes just a few inexpensive supplies.
Supplies
Yellow paint
Fork,
Paper
Green marker
Instructions
Have the kids dip the back of a fork into some yellow paint.
Then tell them to press down on the paper and pull back making a circle shape first. Fill in the middle parts and let dry.
Draw a stem with a green marker. You can leave the dandelion totally yellow or add a bit of orange paint for some depth.
Contributor

SassyDealz.com
"Michelle has a teaching degree and for the love of art she started sharing kids crafts on her blog to inspire teachers, parents, and the little ones! SassyDealz.com is not only a craft website, but also a place where you can find online bargains and freebies!"