Ink Jet Decorated Easter Eggs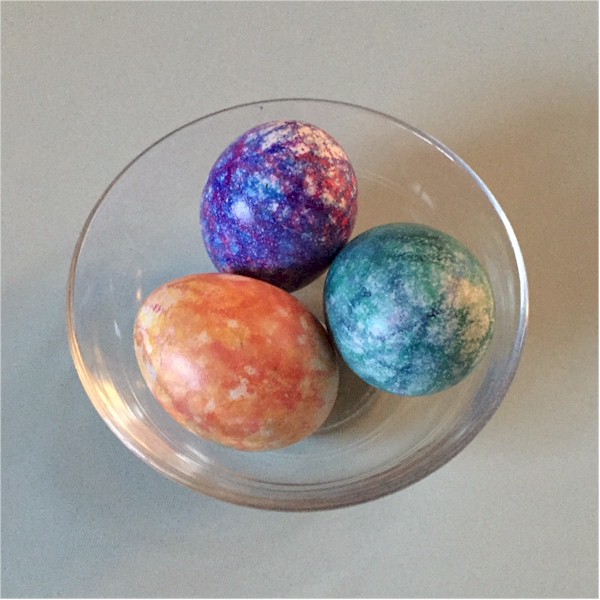 Each year we look for new ways to decorate Easter eggs and here is what we have for you this year. We think these Ink Jet Decorated Easter Eggs are the most fun your kids will ever have dying eggs. We have a number of unique options for decorating eggs that you can find in the Easter Crafts category like Rubber Cement Eggs, Flying Pigs and Nail Polish Stained Glass Eggs.  Have fun!
Trivia:
Paschal eggs also known as Easter eggs are decorated eggs that are usually used as gifts during Easter. Some are very intricate and others simple solid colors. Today many Easter Eggs are are made of chocolate. Source: Wikipedia -Easter Eggs
Supplies
Hard boiled eggs
Disposable gloves
Recycled backing from inkjet labels or tee shirt transfer (we used
staples label backing sheets)
Vinegar
Box Lid
Instructions
Boil eggs, drain. refill pot with water and add 2 tablespoons of vinegar. Let sit for 15 minutes. Drain and dry eggs.
Print one of our printables on the glossy side side of recycled backing paper. Handle carefully. The ink will not absorb and will lay on top of the paper.
Lay the paper ink side up in the box lid. Place an egg on top. Tip and tilt the box top to make the egg roll around until you are happy with the color on the egg. Set the egg aside until fully dry. 
Tips:
Some of the ink may transfer to your hands so wear disposable gloves.
Ink brands may transfer differently to different paper types — so test first.
Do not stack printed papers.
Print each sheet of recycled backing paper right before use as it will begin to dry over time.
Recycled backing paper can be reused by wiping left over ink off with a paper towel.
Patterns, Templates and Printables
Click on a pattern to open it in a new window to print
Supplies
Instructions
Contributor

Sudbudz
Want to have some creative family time? Print out our SudBudz® Masks and get crafty with the kiddos! More than just a typical Fizzy Bath Ball, SudPrize® is a first ever line of skin-loving and natural bath products that make bath time Fun for Kids and Easy for Moms. A Free companion App, SudBudz® engages your children into an immersive world of special and unique characters called SudBudz®.
Tags Easter Egg Crafts