Ice Cream Cone Door Hanger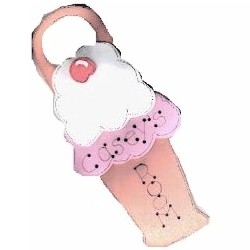 Supplies
Foam: White, pink, orange, red
Brown or green foam can be used for chocolate or mint ice cream
Scissors
Tacky Glue
White Out
Black Permanent Marker
Instructions
Click on Printables and the small thumbprints to print out the patterns. Enlarge the patterns 200%.
Trace patterns onto foam and cut out.
Glue the larger ice cream piece in the middle of the door hanger using the photo as a reference. Then glue the smaller one on top of it.
Glue on cherry.
Outline ice cream with black marker and write whatever you like.
Use whiteout for shimmer on cherry and ice cream.
This craft is reprinted courtesy of CraftsNBeadies.com.
Contributor

Crafts N Beadies.com
Lots of fun craft and bead projects for Scouts and kids of all ages.
Newsletter
Subscribe to our free newsletter to get creative crafts mailed to your inbox.