Holiday Tree Decoration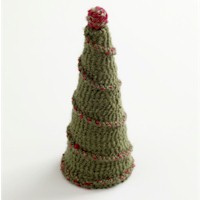 Decorate your home with lots of  these beautiful easy Holiday Yarn Trees.
Supplies
Note: (A)
  791-202 Holiday Homespun Yarn: Wreath 1 ball  
Note: (B) 
  791-203 Holiday Homespun Yarn: Mistletoe    ball USD 5.99     
12 in. (30.5 cm) foam cone
1 small foam ball
Craft glue
Instructions
TREE
 Apply a small amount of glue to foam cone, then wrap cone evenly with A. Continue applying small amounts of glue, then wrapping with A until cone is completely covered. Allow to dry. In same way, cover foam ball with B.
FINISHING
Cord
Cut 2 lengths of A and 1 length of B, each about 2 yards (1.5 meters) long. Fold strands in half and knot about 4 in. (10 cm) from fold to form a loop. Secure loop around doorknob.
Twist other end tightly until yarn begins to twist back on itself. Release loop from doorknob.
Bring ends together and let cord twist on itself, smoothing to even the twist. Knot ends.

Glue Cord around wrapped cone.
Glue ball to top of cone.
This craft is reprinted courtesy of Lion Brand Yarns.
Contributor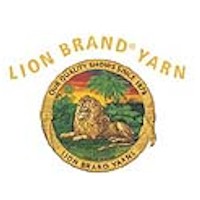 Lion Brand Yarn
Lion Brand is a family-owned and operated business and a beloved American brand since 1878. Today, the business is run by four members of the fourth generation of Blumenthals. It is their passion for yarn, reflected by all Lion Brand associates, that is the secret to Lion Brand's success.