Holiday Houses Made From Paper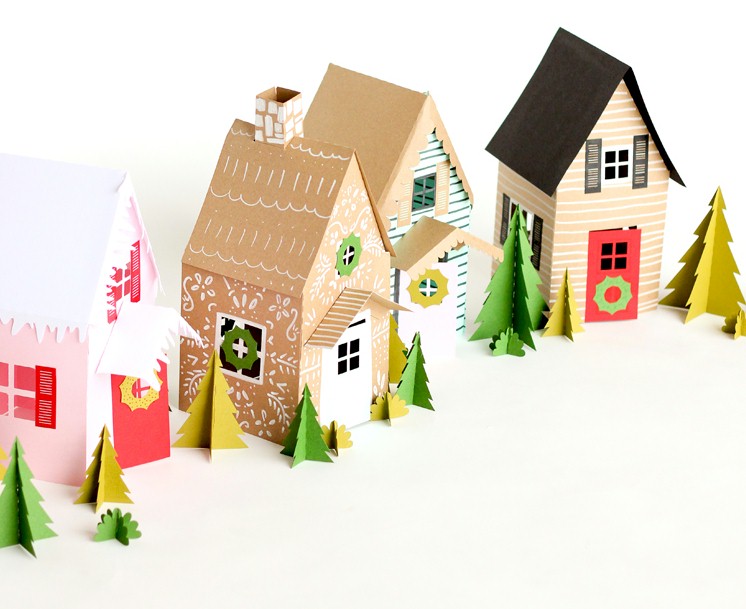 You can make these Holiday Houses Made From Paper for your winter and holiday decorations. These are meant for the older kids because they take patience and the use of sharp instruments. These houses can be decorated for any holiday. Don't be afraid to experiment.
Trivia: Today's electric lights were invented by an associate of Thomas Edison named Edward Johnson. In 1882, he hand-wired 80 red, white, and blue incandescent lights that were the size of walnuts and hung them on the tree in his New York City apartment. General Electric purchased the patent rights to Thomas Edison's bulbs in 1892, and in 1900 ran the first-ever advertisement for Christmas lights. Back then, one string of lights cost $12, which is about $300 in today's money. Obviously, these early electric lights were used mainly by the very wealthy.  Source: Thompsoncreek.com – Holiday House Proud and the History of Holiday Decorating
Supplies
12 x 12 scrapbooking card stock
Hot glue or school glue
Glue Stick
Markers (optional)
Exacto knife and cutting mat
Scissors
Instructions
If you're cutting by hand, download this PDF file: paper-holiday-houses. The files are sized to 12 x 12, so you'll have to print them at a print shop.
Cut out your paper. All the fold lines are perforated for cut files, to make folding easier.
You can assemble the house first and then decorate it, but I find it much easier to draw and glue on the house pieces when they are still flat.
I highly recommend using a glue stick for the shutters. The hot glue is too messy for those fragile slats.
Glue the house together at the flaps.
When adding the roof, I find it helps to glue one side at a time.
You can cut the roof from the templates I share, or you can cut your own. My roof templates are more of an exact fit because I needed to fit them on a 12 x 12 cut file. You can easily cut your roof larger and add eaves.
Hot glue is faster, but you can certainly use school glue (or double sided tape) if you don't want your kids using hot glue guns.
To Make the trees and bushes simply fold the trees and bushes in half at the perforated fold lines. Add a line of school glue or hot glue to the crease and add another tree piece at the crease. Let dry or cool.
Additional Images
Contributor

Delia Creates
I'm Delia and I blog at www.deliacreates.com. I am a crafter, sewist, photographer, crocheter, and general DIY-er. I have three kids who I love to create for and with. They are often my inspiration and my muses. I even have a section of my blog dedicated to them, call Kids Create: http://www.deliacreates.com/kids-create.
Supplies
Instructions
Contributor

Sudbudz
Want to have some creative family time? Print out our SudBudz® Masks and get crafty with the kiddos! More than just a typical Fizzy Bath Ball, SudPrize® is a first ever line of skin-loving and natural bath products that make bath time Fun for Kids and Easy for Moms. A Free companion App, SudBudz® engages your children into an immersive world of special and unique characters called SudBudz®.