Hanukkah Dreidel Pop Up Card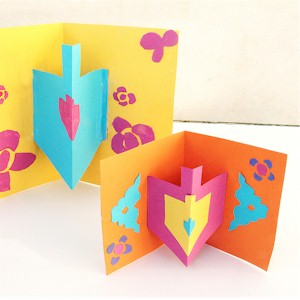 Supplies
Colored Card Stock
Glue or Glue Stick
Scissors
Markers or Paints
Instructions
Print out the pattern for your pop up dreidel.
Cut dreidels according to the pattern, size of course depends on the size of your card.
Open card so it lies flat on the table and position driedel so that it's fold lies directly over the middle fold of the card.
Decorate cards before attaching driedel, or afterwards, it's up to you, though it's best if dreidels are set aside to dry.
Contributor

CreativeJewishMom.com
Visit me at CreativeJewishMom.com. on the exciting journey of giving greater meaning to the everyday through creativity. This blog is my way of sharing with you the joys of crafting, decorating, cooking, and gardening. I love simple ideas, recycling and quick transformations.
Newsletter
Subscribe to our free newsletter to get creative crafts mailed to your inbox.