No Bake Pilgrim Hat Cookies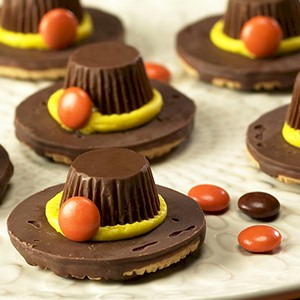 Let the kids help you make these No Bake Pilgrim Hat Cookies. It is a treat that is fun to make and even more fun to eat.
Supplies
24 Fudge Bottomed Cookies
24 Reese's Peanut Butter Cup Mineatures
24 Reese's Pieces Candies
2 Tubes Yellow Decorator's Icing (2.4 oz each)
1 Icing Tube With Decorator Tips
Parchment Paper (optional)
Instructions
Lay the fudge bottomed cookies face down on the parchment paper.
Put a dab of the icing on the Peanut Butter Cup and attach it to the fudge cookie so it forms the ring.
Press one of the Reese's Pieces to each ring to represent the buckle.
Contributor

Hersheys
© The Hershey Company is the largest producer of quality chocolate in North America and a global leader in chocolate and sugar confectionery and is headquartered in Hershey, Pa.