Halloween Spider Hat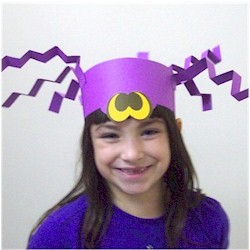 Turn cardstock into a fun and spooky Spider Hat. Add a black pair of pants and a black sweatshirt and your costume is complete.
Supplies
Purple Construction Paper
Yellow Construction Paper
Scissors
Glue stick
Stapler
Instructions
Click on Printables and print out eye pattern on yellow construction paper. Print the other two patterns out on purple construction paper. Cut patterns out.
Cut the two wide strips to form crown and staple together. You may need more depending on the size of the childs head.
Cut the narrow strips to form spiders legs. Fold in accordian fashion and glue to crown.
Cut out eyes and glue on crown using picture as reference.
Now go out and have some Halloween fun.
Patterns, Templates and Printables
Click on a pattern to open it in a new window