Halloween Ribbon Wreath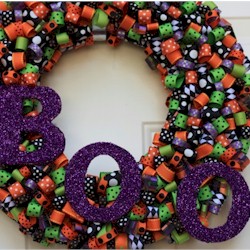 Halloween doesn't have to be spooky and scary. If the kids are grown and you just want to decorate to add a bright spot of color in your home this wreath is fun and a great project for teens or fundraisers.
Supplies
12" Foam Wreath
10 - 15 Different Ribbons (lots)
Scissors
Hot Glue Gun
Large Letters
Spray Adhesive
Glitter
Instructions
I started by wrapping a 12″ foam wreath in wide ribbon (I used black), pinning it at first, and gluing it down as I went.
You're going to need lots and LOTS and LOTS of ribbon.  I ran out of ribbon twice and had to go back for more.  HOW much should you buy?  Well, it depends.  It depends on how thick you bunch the ribbons together, and it depends on whether or not you plan to completely cover the inside and outside of the wreath (instead of just the front).  I completely covered the outside of my wreath, so I needed a small truckload of ribbon.  I used at least 138 feet of ribbon.  Then I lost track.
Here are my ribbon tips:
•stick to a fairly tight color scheme.  mine was black, orange, purple lime green, and white
•use varying widths of ribbon.  I wish I had used more wide ribbon.
•Select 10-15 different ribbons.  I used 12, partly because when I ran out the first time, I could no longer locate the ribbons I picked the first time.  I had to mix in new patterns (and yes, my non-flexible self had to do some deep breathing when I first realized this).  But I LOVE the interest my 12 different ribbons add.
•avoid sheer ribbon unless you enjoy getting hot glue all over your fingers.  Lesson learned.
Here is my ribbon "line-up," minus one. This was definitely a handy piece of paper to have when I had to run back to buy more ribbon.
Cut the ribbon into 4.5 inch strips.  I measured one every few minutes to use as a guide strip, but for the most part, I eyeballed it.  Mine probably range from 4 -6 inches.
Now it's time to create loops with the ribbon, leaving a little room (approx 1/4″) at the bottom, beneath the "seam."  You can either sew these, or if you don't have a sewing machine, you can hot glue them. I worked with 3 to 4 strips of ribbon at a time…that's how fast I could glue then fold them down before the hot glue dried.  I just threw all of my loops in a big box as I went.
Time to start gluing your ribbon loops to the wreath form.  I worked on the front/top of the wreath first.  You need to separate the part of the ribbon below the "seam" you created.  That's what you'll be gluing down.
Just keep adding more loops to your wreath, placing them at random angles.  Shove them together as close as you can so your wreath will look nice and full.
Once you have the top of the wreath filled in, it's time to work on the sides!  I was struggling with my method for the sides until it was suggesed to layer the ribbons on the side, so the top of the loops are all still facing the front of the wreath (instead of poking off to the sides…).  Either way could work,
Use spray adhesive to apply glitter to your letters if you opt to add them to your wreath.
I covered some small blocks in ribbon. Then I hot glued the blocks to the wreath, then glued the glittery letters to the blocks.
think about making another ribbon wreath for Christmas or Easter (or both!).  The possibilities and color combos for this type of wreath are ENDLESS!
This craft is reprinted courtesy of The PickyApple.com.
Contributor

Sudbudz
Want to have some creative family time? Print out our SudBudz® Masks and get crafty with the kiddos! More than just a typical Fizzy Bath Ball, SudPrize® is a first ever line of skin-loving and natural bath products that make bath time Fun for Kids and Easy for Moms. A Free companion App, SudBudz® engages your children into an immersive world of special and unique characters called SudBudz®.