Grocery Bag Placemat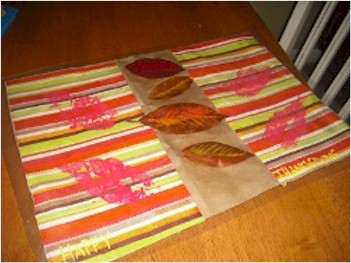 This Grocery Bag Placemat is a fun way for the children to be part of the Thanksgiving feast and festivities. Every child can create their own original version.
Supplies
Fallen leaves
Crayons
Ribbon and hole punch
Scissors
Paper grocery bags
Glue sticks
Washable tempera paint
Paintbrushes
Clear contact paper
Instructions
On a pleasant autumn day, you and your children can gather a variety of fallen leaves. When inside, cut paper grocery bags into 8-inch-by-11-inch rectangles for your toddler, preschooler, and school-age child. Your children can then glue leaves onto these homemade place mats or lightly paint a leaf and press the imprint onto them. When the finished place mats are dry, cover them with clear contact paper and trim the excess.
Contributor
FaveCrafts.com
FaveCrafts is owned by Prime Publishing LLC, an Internet Media Company that operates web site communities, e-mail newsletters and e-commerce stores in niche areas such as crafting, home décor, wellness, and cooking. See their craft projects at https://www.favecrafts.com/